From 2003 to 2018
Die Anfänge
2003 gab es im Forum acidcode.de (das existiert leider nicht mehr) die Möglichkeit, sich bei einer Sammelbestellung der ML-303 V5 zu beteiligen. Dabei handelt es sich um einen Nachbau der Roland TB-303, für den Matthias Märker das originale Layout der TB-303 kopiert hat und den analogen Teil um seinen eigenen, PIC-basierten Sequenzer ergänzt hat.
Dann mal los!
50 Glückliche konnten sich in eine Warteliste einschreiben. Das Set bestand aus zwei Platinen: Einer größeren Analog-Platine und einer kleineren Digital-Platine. Die Analogplatine beinhaltete die Klangerzeugung, die Digitaplatine den PIC mit dem Sequenzer, die Taster und LEDs.
Zusätzlich im Set war der mit dem Bootloader vorprogrammierte PIC sowie einige exotische Japantransistoren. Den Rest, bestehend aus Potentiometern, Wald- und Wiesen Kondensatoren und Widerständen, Dioden, Steckern, Buchsen usw. konnte man sich bei Reichelt und Conrad zusammenbestellen, wobei auch hier direkt Bestellnummern genannt wurden. Es war eine sehr nette Bande im Forum.
Das Forumsmitglied Wintermute hat sich bereit erklärt, ein Gehäuse für die ML-303 V5 zu entwerfen. Das Gehäuse sieht man auch auf acidcode.de, wenn man etwas von einer ML-303 im Wintermute-Gehäuse hört, dann sieht das so aus.
Nach einigen Wochen Wartezeit kamen die Platinen. Die benötigten Bauelemente trudelten auch so nach und nach ein, Matthias schrieb eine detaillierte Anleitung und es konnte mit dem Löten begonnen werden.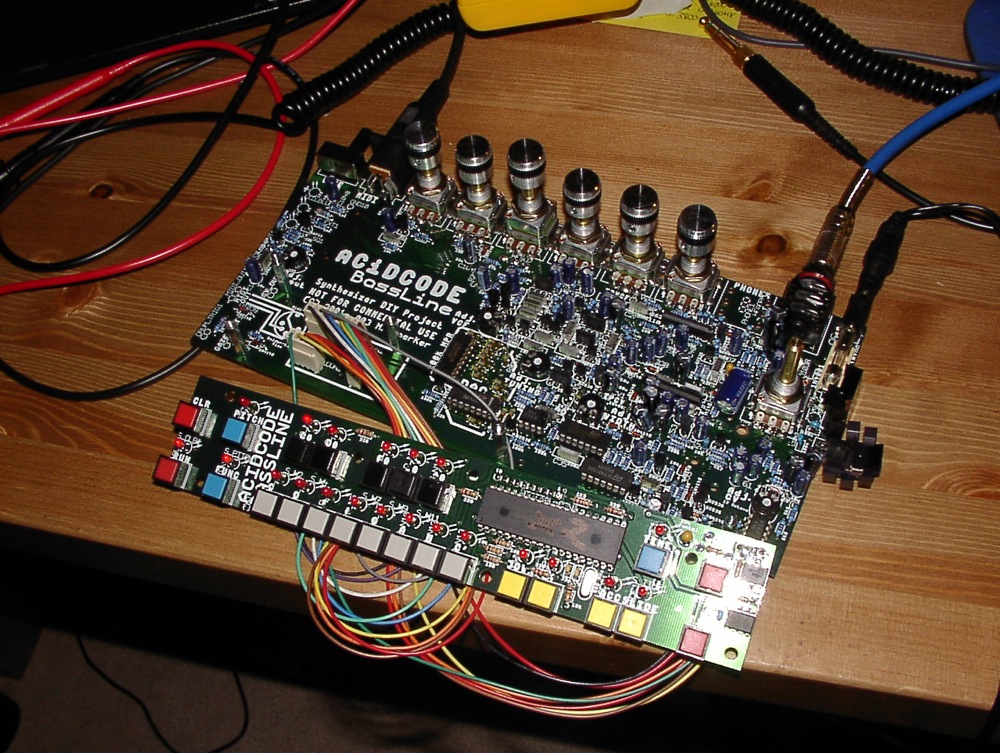 Das eigentliche Bestücken war nach einer guten Woche abendlichen Lötens getan und die 303 gab die ersten sehr gut klingenden Töne von sich. Nun musste ein Gehäuse her.
Ich hatte mir kein Wintermute-Gehäuse bestellt. Ich wollte mir aus Holz mein eigenes Gehäuse bauen, das ist aber irgendwie schief gegangen: Holz kann man nicht so detailliert sägen wie ich es gerne hatte. Ok, ich konnte es mit meiner Ausrüstung nicht. Insofern bin ich dann auf die Plexus-Variante "Wir bauen uns ein Gehäuse aus Platinen" umgestiegen. Die Frontplatte war auch eher schnell zusammengeschustert. Ich wollte mit dem Teil Musik machen und nicht ewig dran schrauben. Nach ca. 4.5 Monaten war die 303 fertig.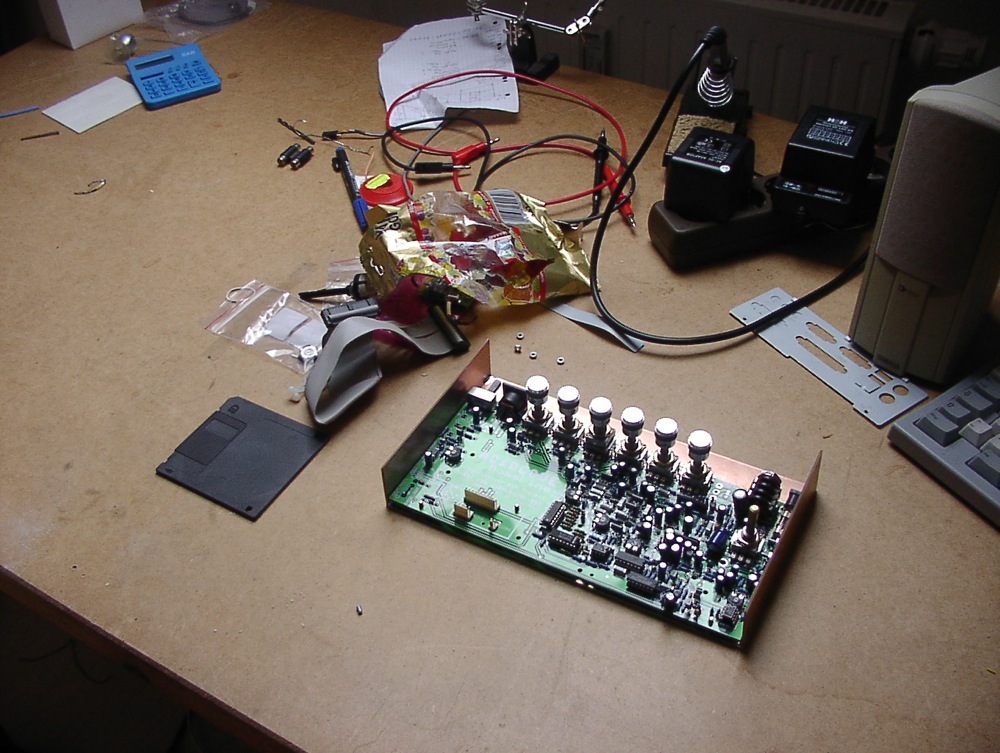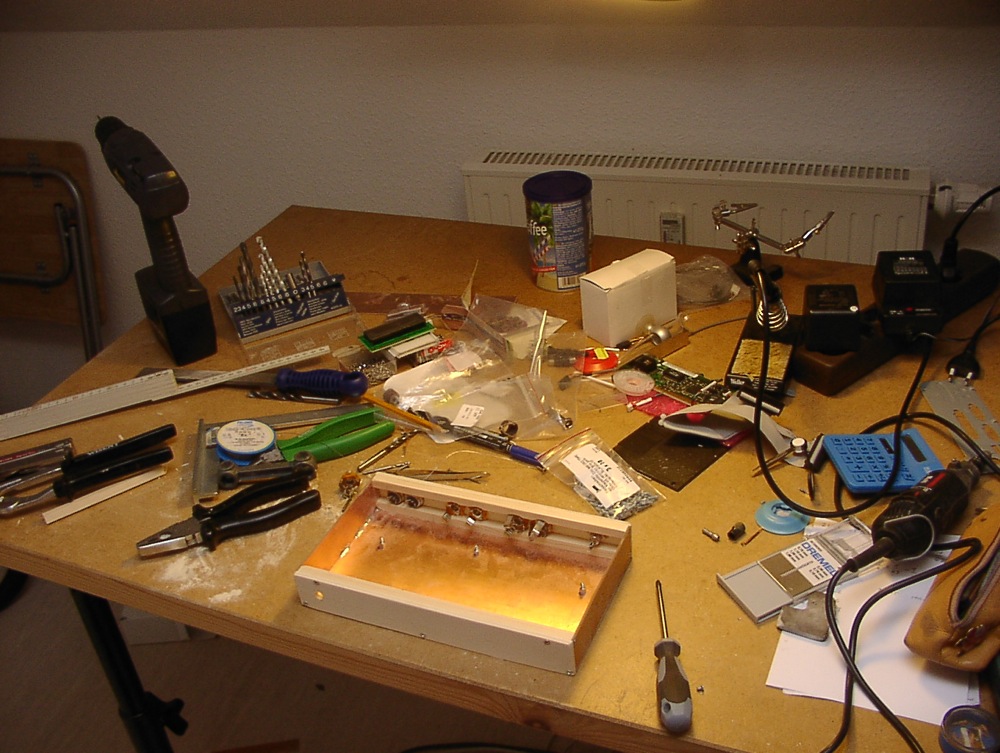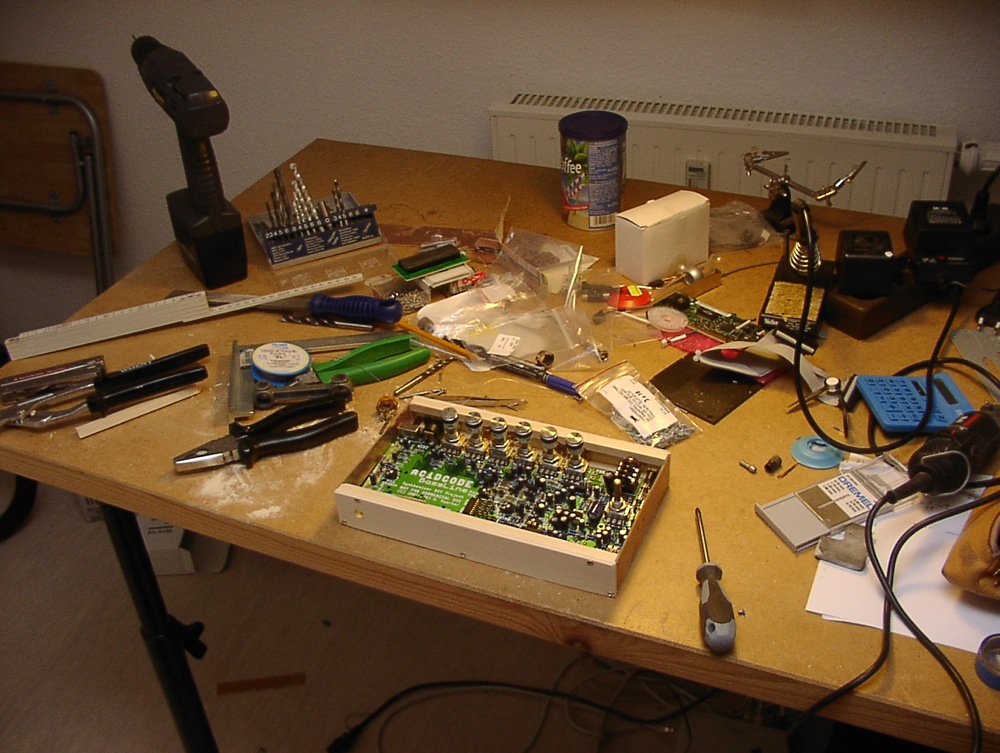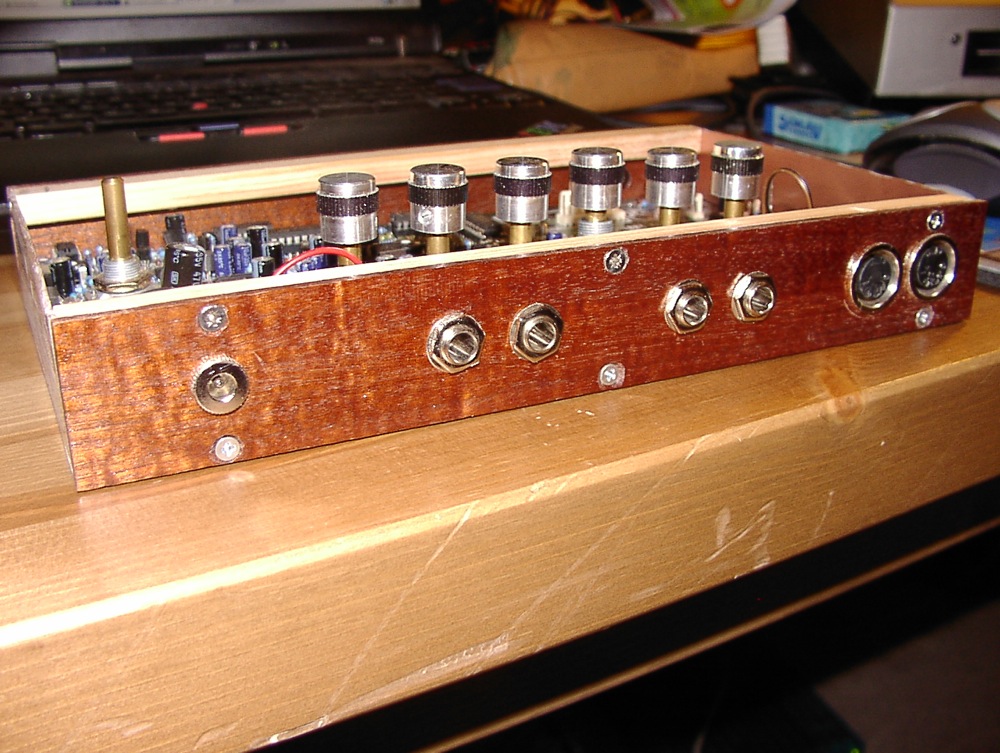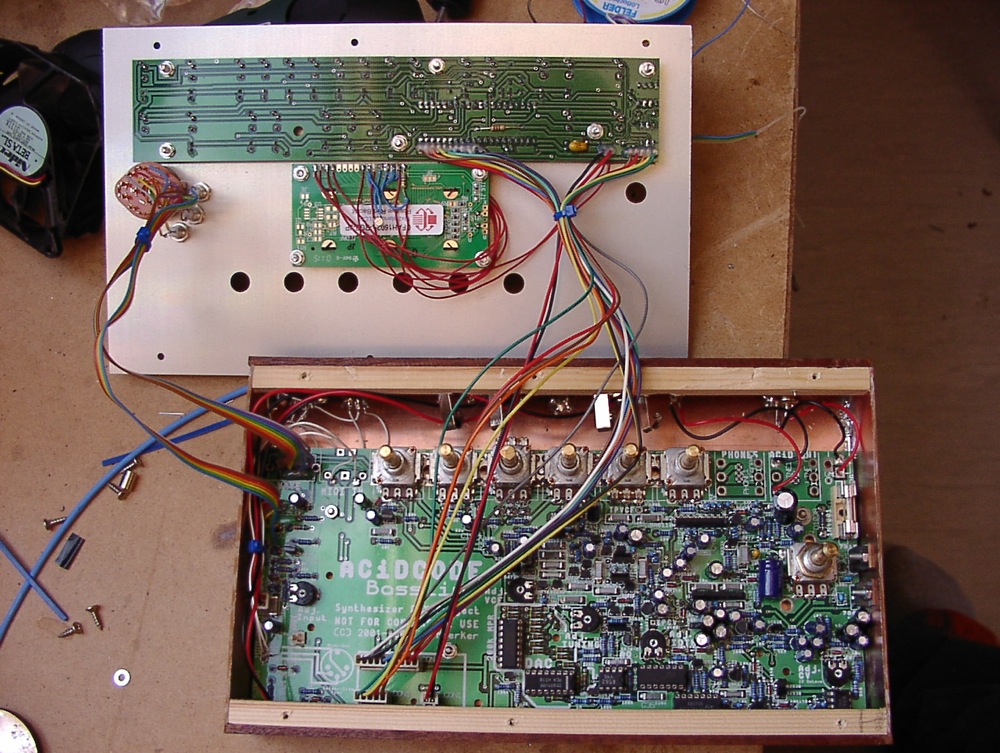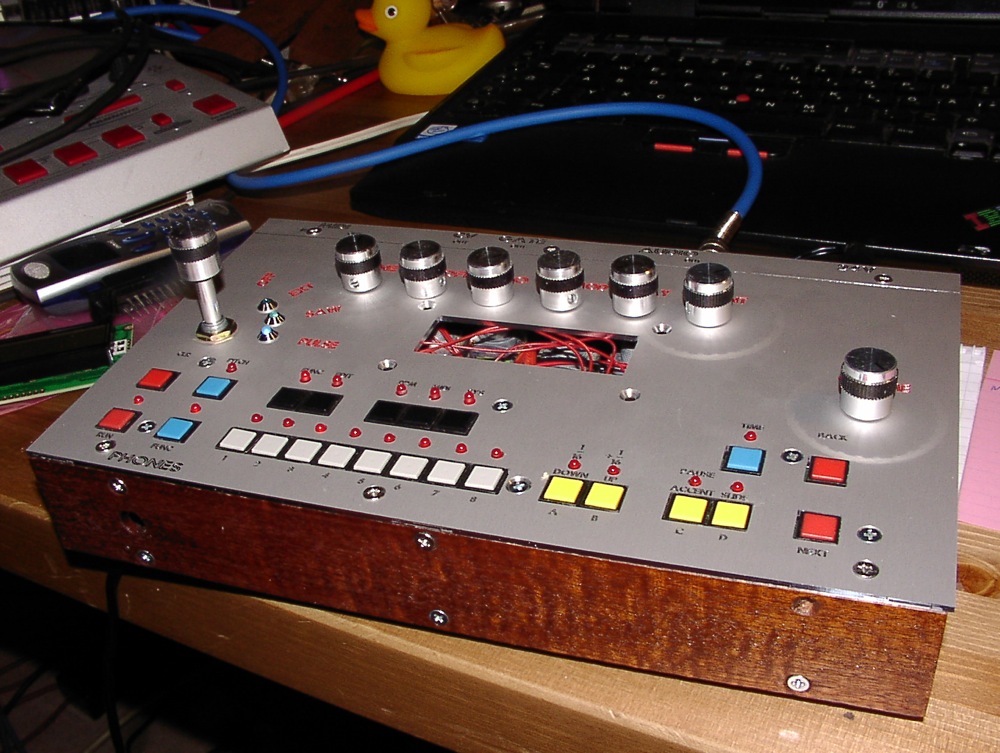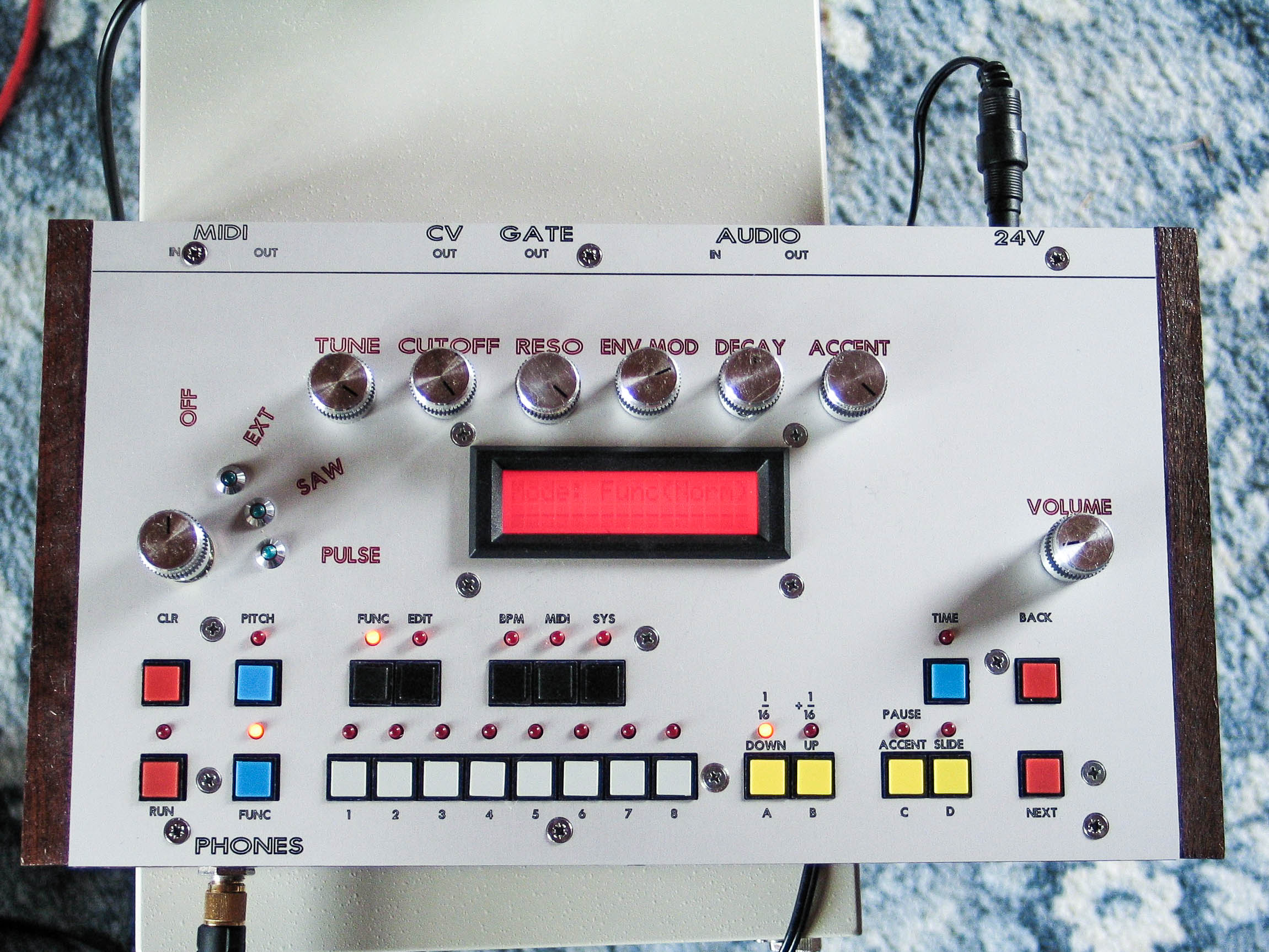 It is a clone of the famous Roland TB-303

Aquiring the DIY Kit
In December 2003 there were an announcement in the acidcode.de forum, that theML-303 V5 would be available as a DIY kit. As you can tell from the name, this was not the first time. AFAIK the V4 was the first model released as a DIY kit. 50 people had the chance to buy a this kit for the V5. The price was around 80€. It contained two PCBs, some very rare transistors and a PDF manual. First come, first serve: Reply in the thread, that you want one, and you are in. Don't look for the acidcode forum. After some "discussions" it was closed and replaced by "Lötstelle 303" ("Soldering place 303"). You can find all informations regarding the ML-303 there. After some waiting time the parcel arrived and I could start. Some common components you had to order for yourself. A lot came from german distributor Reichelt for reasonable prices. Capacitors and resistors and some headers. From Conrad you had to order the switches for the sequencer. This stuff came around 150€.
The digital PCB
On the digital PCB are just a lot of buttons, LEDs and the PIC microcontroller. After one evening this board was done, no real challenges await you here. So start with the digital board and get some practice if you are new to soldering. I use an "Ersa Multitip C25" soldering iron. I have got some decent tools at work but at home I use this very simple iron for years. I have completed the whole ML-303 with it.
The analog PCB
This PCB is larger and more complex. Start with the smallest components and work your way up to the larger ones. It is essential that you work very careful: You have the chance to solder in capacitors and diodes the wrong way. You can mix up values and voltages of capacitors or types of transistors. Just take you time and solder in one piece of device at the time. Although it is expensive, it really pays to use a thing like this (I don't know the english word). After one week of work, 2-3 hours per day, I was done with both boards.
Putting it together
After you are finished you can connect both PCBs, switch on the 24V power supply and hope it won't smoke. You then have to calibrate the control voltage and the envelope. This part is very nice described in the supplied manual and was not very hard. For me luckily everything worked fine and I had no problems to solve. On the next picture you can see both boards, already connected. The potentiometers are a big factor for your happy knobbing as well: I choose the good renowned ALPS types.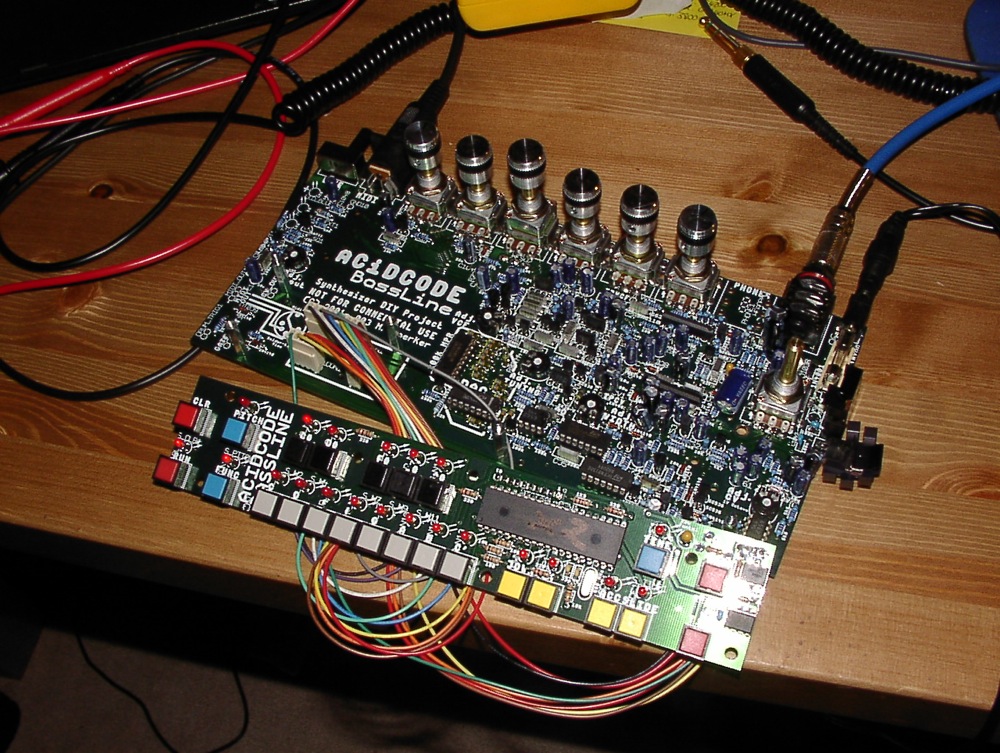 A guy from the forum offered to build a case for the ML-303 V5. I wanted to build my own, not knowing, what a difficult task this is. I wanted to route all connections on the PCB to the backside of the synthesizer: There are Audio IN and OUT, Control Voltage (CV) and Gate and MIDI of course. A friend of mine told me of some special technique he is using for his cases: He uses unetched PCBs, cuts them (the can be cut very exactly) and solders them together. This is a very good working method for the main case.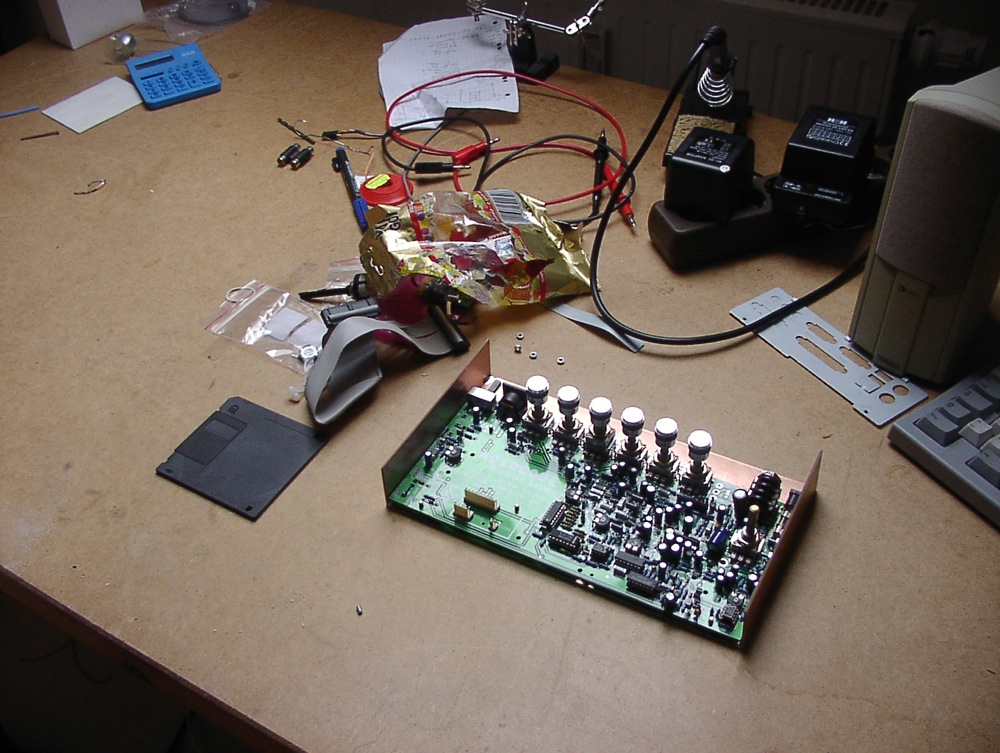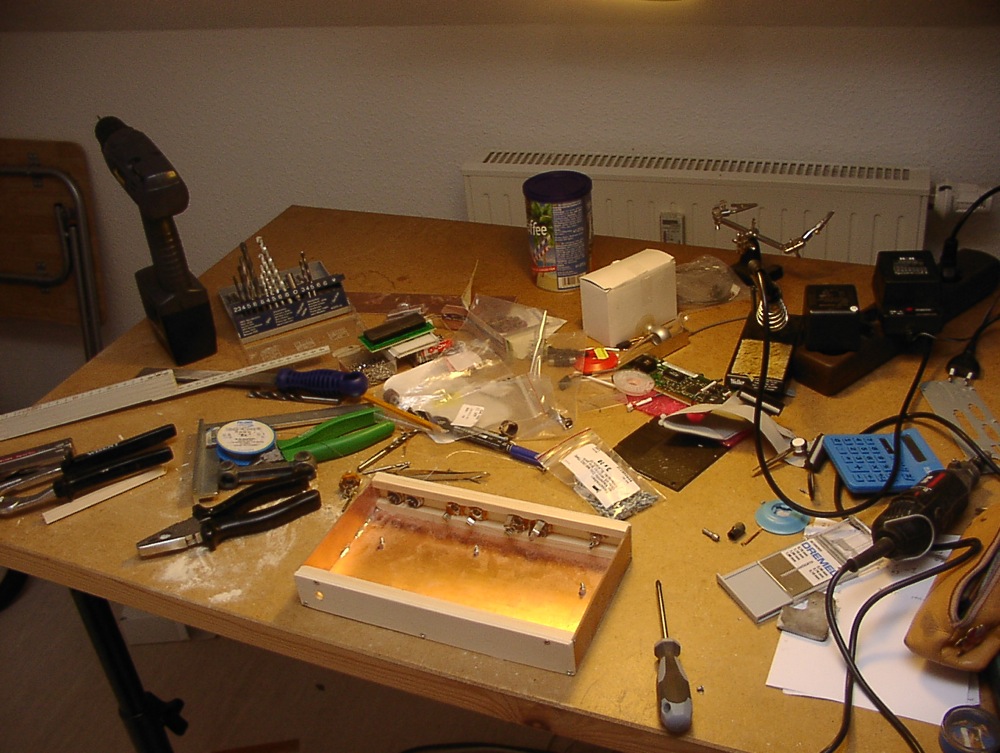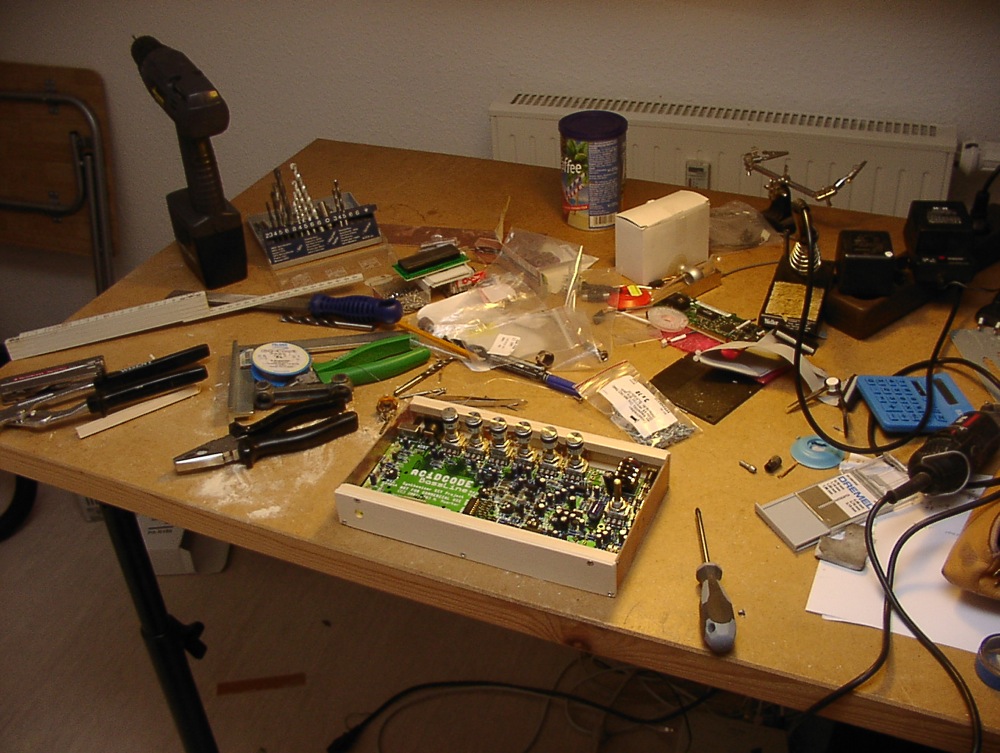 But you still need a nice frontpanel. Schaeffer Frontplatten offered a program to design your front panel, send the data in and after some days you get your panel via mail. This is not cheap, another 80€ gone for the front. But it looks for sure better than doing it youself.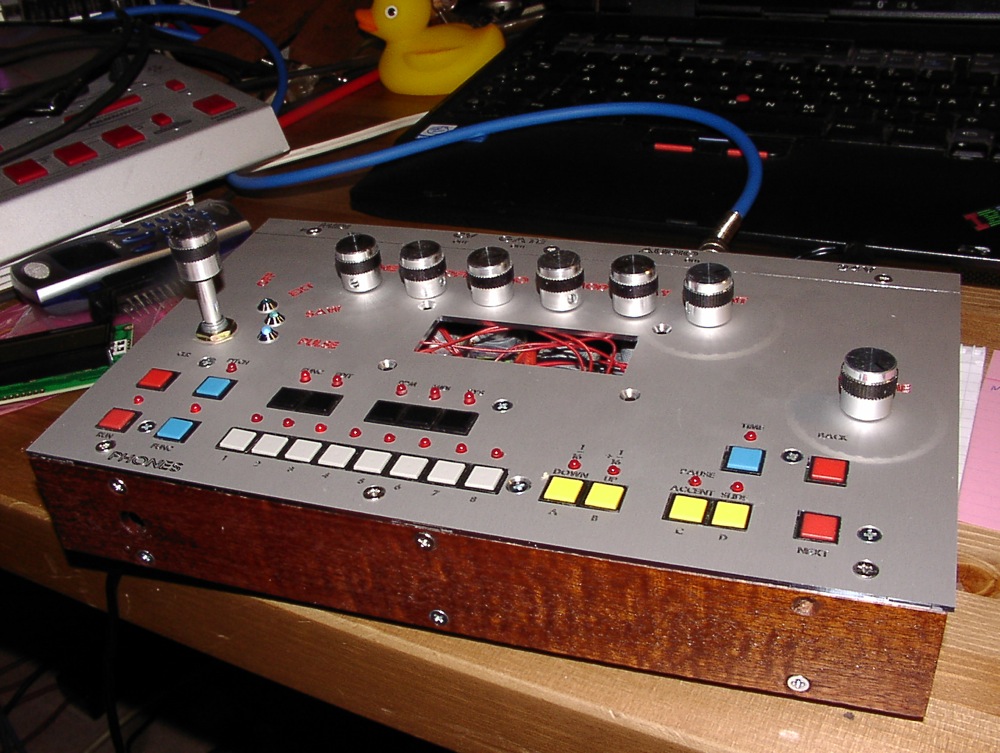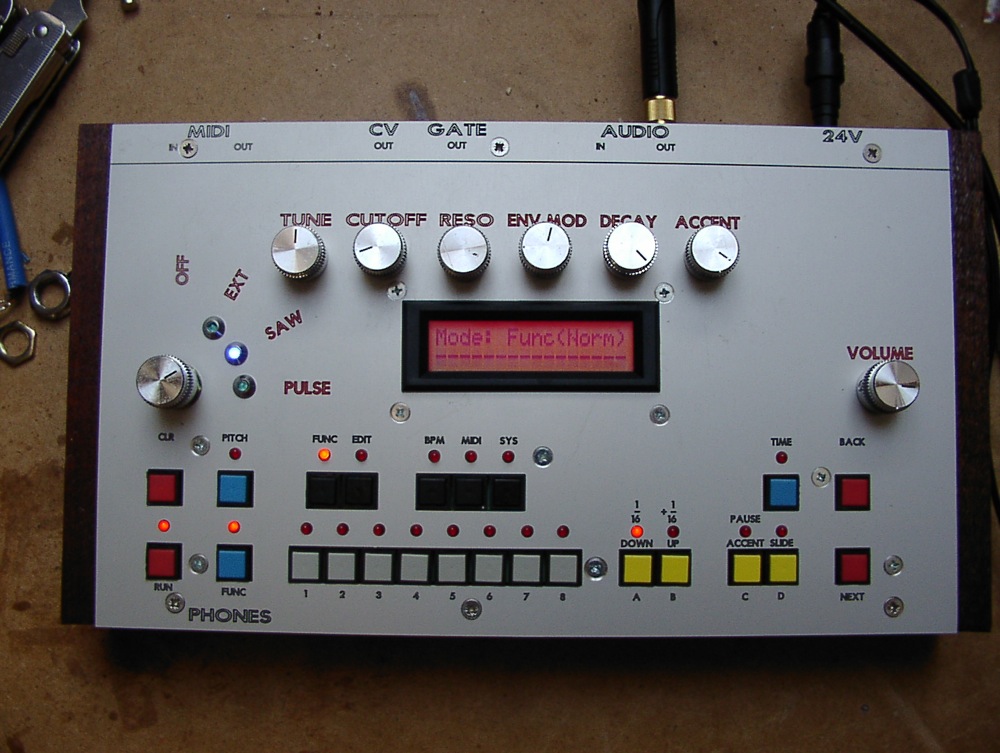 I could aquire some mahagony for the side panels.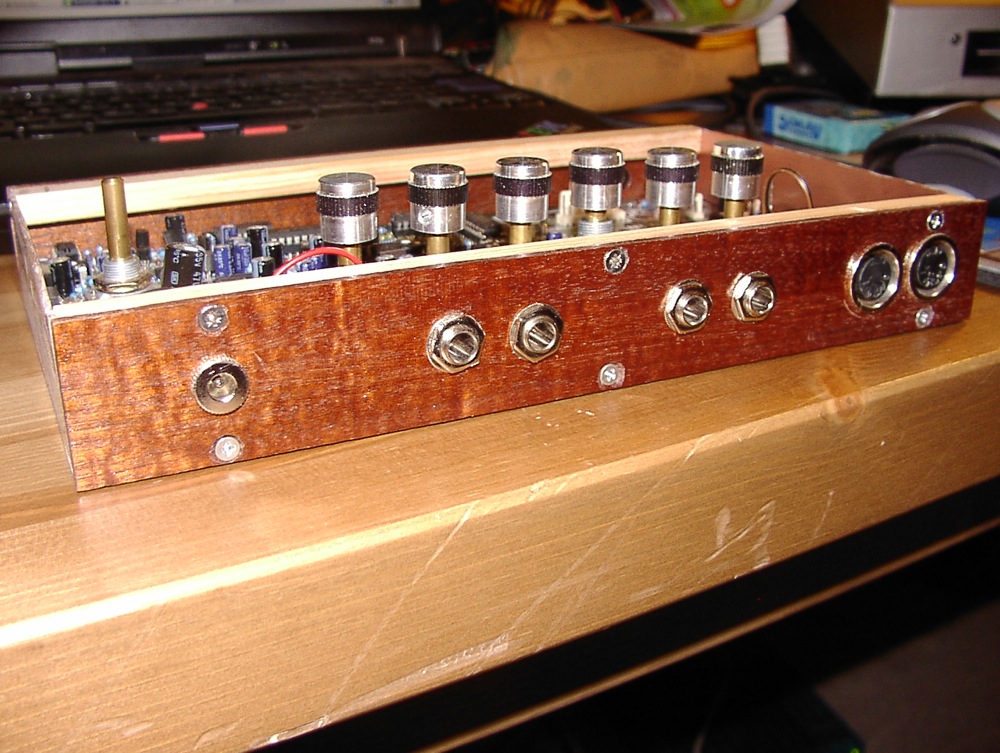 Still some wiring of the display to do...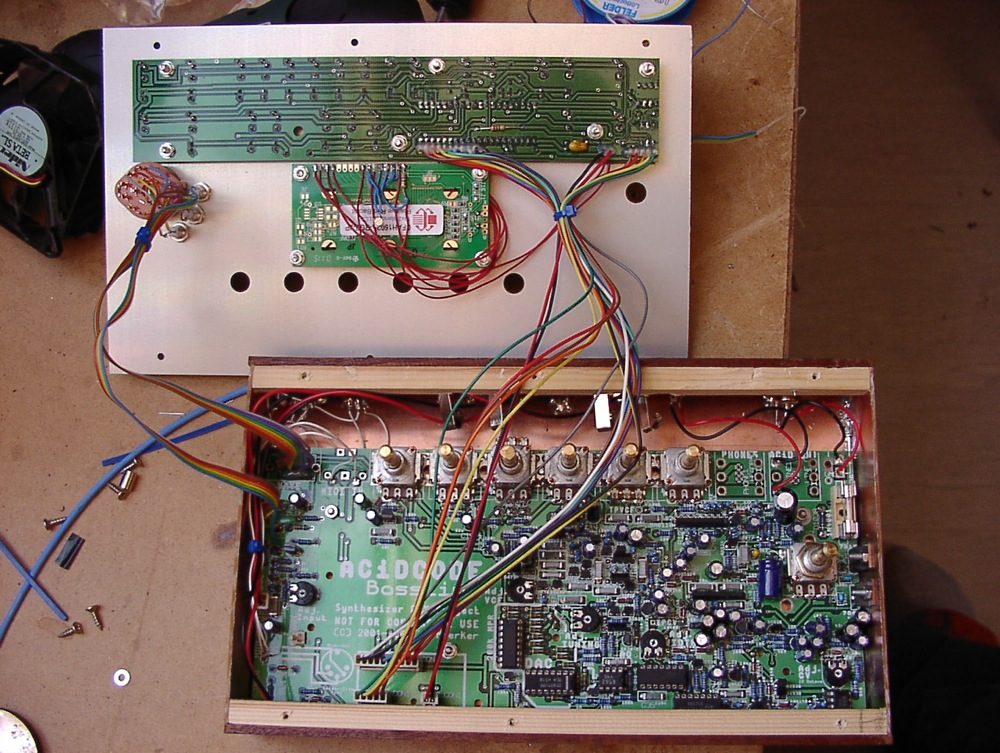 The whole project took 4,5 months to complete.
HERE is a joke - Fold your own TB-303