This is a chronological history of my life as a live-act making electronic music.
Darkstar Industries - Subsoil Dresden - 13.3.1998
I did this set alone in Dresden under the alias "Darkstar Industries". The party was called "Subsoil". I had an MPC2000, a Virus A and an Quasimidi Raven MAX.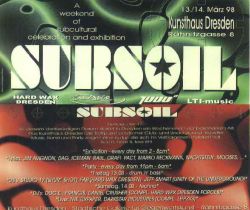 Kemar vs. Skwit - KOCMOC Leipzig, 16.9.2000
Our first gig in front of more than our parents. I'm so nervous!
Kemar vs. Skwit - 3 years tekknoplanet.de, Distillery, 14.5.2001
Kemar vs. Skwit - Distillery Leipzig, 16.6.2001
Kemar vs. Skwit - Chill-Out - Leipzig, Giesserstrasse, 23.3.2002
This was the liveact I remember the most. In the Leipziger "Giesserstrasse" was an Goa/Psy-Party. There were beautifully decorated floors, one Dancefloor and one Chillout-Area. We did 3-4 hours of improvising, playing prepared material, just jammin' around. It was cold, but he area was packed. People sat and chilled, listening to our music. Later someone organized a heater and it became a bit more cozy. Kemar and me packed every piece of gear we had. I relied on my RS7000, a Doepfer Regelwerk, XBase, Pulse and some other stuff I really can not remember. I shrank these 4 hours into 74 minutes beautiful material.
Kemar vs. Skwit - Unknown Species - 22.6.2002
The guys from Unknown Species threw a party.
Kemar vs. Skwit - Airfieldsim, Polenz - 17.8.2002
The Distillery organized a small Festival near Polenz. We did a gig there. On the 3rd and 4rd picures you can see the Midimonster, which I created especially for these gigs. On the last picture is Kemars Laptop with his "Dahak"-Sequencer which he wrote for live-sequencing.
Kemar vs. Skwit - Voxx, Chemnitz - 17.8.2002
For some reason we thought it was a good idea to play two gigs on one evening. It isn't. We had to carry the heavy boxed with our gear twice, we were tired, we had to drive vom Leipzig to Polenz to Chemnitz and back. Never again!
Kemar vs. Skwit - Distillery Leipzig - 31.8.2002
Another Liveset from the Distillery.
Boulderdash - Treibsand Open Air 25.7.2004
Two years have passed. We changed our name to "Boulderdash", because of the often occuring "What's your name?" - "Kemar versus SKwit" - "How do you spell this?" discussion. I sold some of my gear and tested a Laptop with Ableton Live and an RME PCMCIA-Card. But I still relied on my RS7000. I do not recall much about the Gig at the Treibsand, however.
Boulderdash - Achtermai Chemnitz - Acidloops 29.8.2004
This was the last party in the Achtermai Club in Chemnitz before they had to close down. We had the chance to perform with Johannes Heil. Also, the RS7000 got some submarine feeling with an red LED backlight.
Boulderdash - Distillery - 15.8.2005
This was the first set where I introduced some Mash-Up.
Boulderdash - Schwarzlichtnacht Moritzbastei - 6.11.2005
This was another nice gig. The Moritzbastei, a famous club for students in Leipzig, held the Schwarzlichtnacht. The whole club was flooded in blacklight and decorated with constructs woven from wool and constructions, you will find at goa and psy parties. We had the chance to play on an blacklight table football table. From music-side it was a best-of the old chill-sets and some newer sets made with Live.
Boulderdash - Distillery - 30.10.2007
Another year gone by. I replaced the RS700 by the Korg Electribe SX, which is an incredible great kind of gear. Further I used an SPL "Dynamaxx" as an compressor for main. The lone survivor of my heap of gear is the Clavia "Micro Modular". On the last picture you can see the "Midimonster V2".
Boulderdash - Distillery - 26.7.2008
I have absolutely no idea what happened at our last gig.
Exle - An evening with old friends - 2008 - now
New name, new style. Acually this isn't a live set but an ever-growing mix. I came in touch with bootleg / mashup songs and was hooked. Live was the perfect platform for doing stuff like this. And so I started generating single tracks, which fitted well together, stored them on my hard disk and began to glue them all together. The set ist still growing in 2016.
Exle stands for "Ex-LE", "Ex" for "former" and "LE" being the proper abbreviation for my hometown Leipzig. 2009 I had to move to another part of germany.